AI Writing Simplified 🔗
We're nothing if not fans of evolution and just like everything else, AI writing has been evolving with thousands of new users pouring in every day. To simplify the process and make it more interactive, we're excited to announce the next step in Rytr's evolution, Rytr Chat. Rytr has now incorporated a chat-like interface making it easier to communicate with Rytr and get your writing done even faster.
While we still have our classic 40+ use cases, we also now have an entirely new way of generating content but with the same streamlined workflows, simple documents, and great editing features as before. 
How to get the best out of AI Chat  🔗
Rytr Chat has been designed to create a more natural and conversational experience when using Rytr. You will be able to communicate with Rytr in the same way that you would talk to a friend or a colleague. You can ask Rytr for suggestions, provide feedback on the suggestions, and ask for revisions, just like you would in a chat with a human. It's super intuitive and once you get going you'll find your own preferred way of communicating, exactly like in real life.
Suggested prompts for AI Chat BotsWe know chatting like this might seem strange at first, so to get you started here are a few ways you might begin a prompt to create content with an AI chat:
1. Write copy for a Facebook ad selling….
2. Generate ideas for videos on….
3. Write a blog about….
4. Explain how…
5. Create a cover letter applying for…
And remember, once you've generated some copy, you can ask Rytr to refine it, make it shorter, funnier, or whatever you like!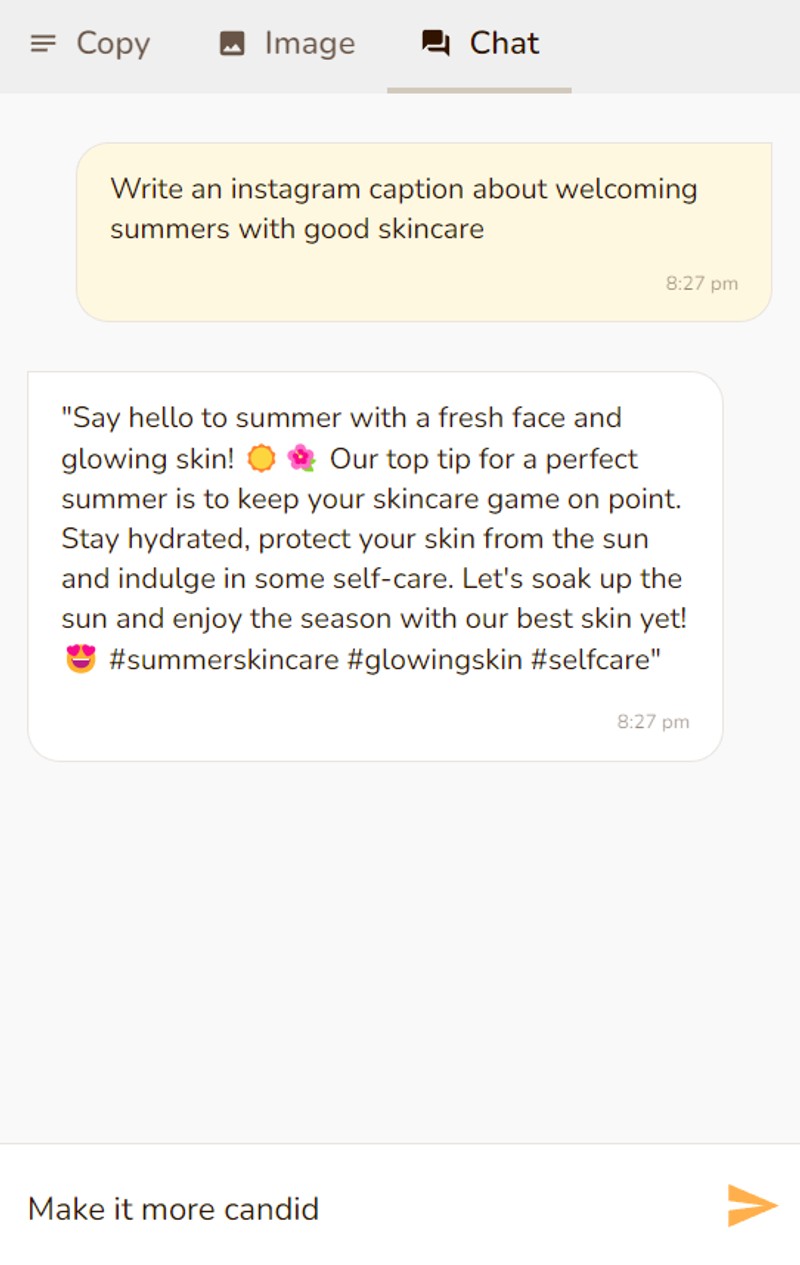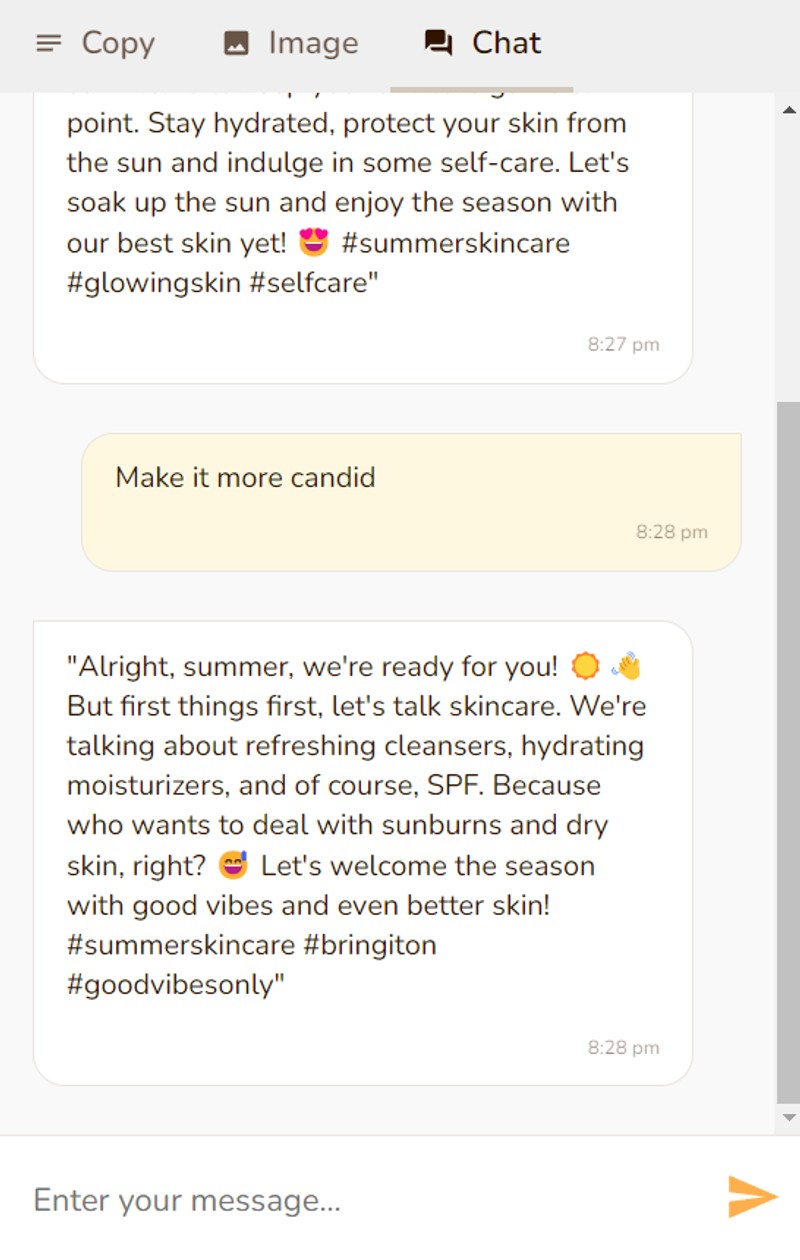 How to use Rytr Chat: Step-by-step 🔗
Simply click on the 'chat' tab when logged into your account, enter your command, and then watch the magic happen. 
Rytr Chat is going to be your go-to buddy for all your quick content needs. Looking for a last-minute social media caption? Just browse the chat window! Unsure of which use case to select? Chat can take care of everything.
And the list goes on and on. With our AI chat interface, your imagination is the only limit. 
The platform is easy and intuitive to use, allowing you to create content more quickly and efficiently than before in a super-fun way. The AI-powered chat assistant can help you create content that converts within minutes, leaving you with more time to get other work done or simply take naps.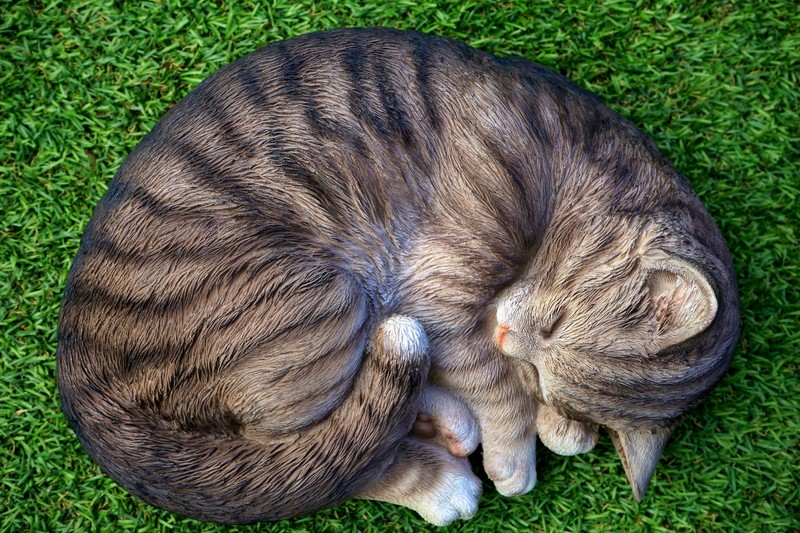 We believe that this new feature will make Rytr even more versatile and accessible. It will allow you to write faster without sacrificing the quality of your work. With Rytr's new chat-like interface, you can write with confidence, knowing that you have a reliable partner by your side.
Rytr Chat Vs ChatGPT: What's the difference? 🔗
You might have come across one of the most trending tools these days- ChatGPT so, we hear you ask, how does Rytr Chat differ? Well, ChatGPT is a natural language processing tool made by OpenAI for research purposes, put simply, it's an AI Chat bot that allows users to interact with it in a human-like, conversational way.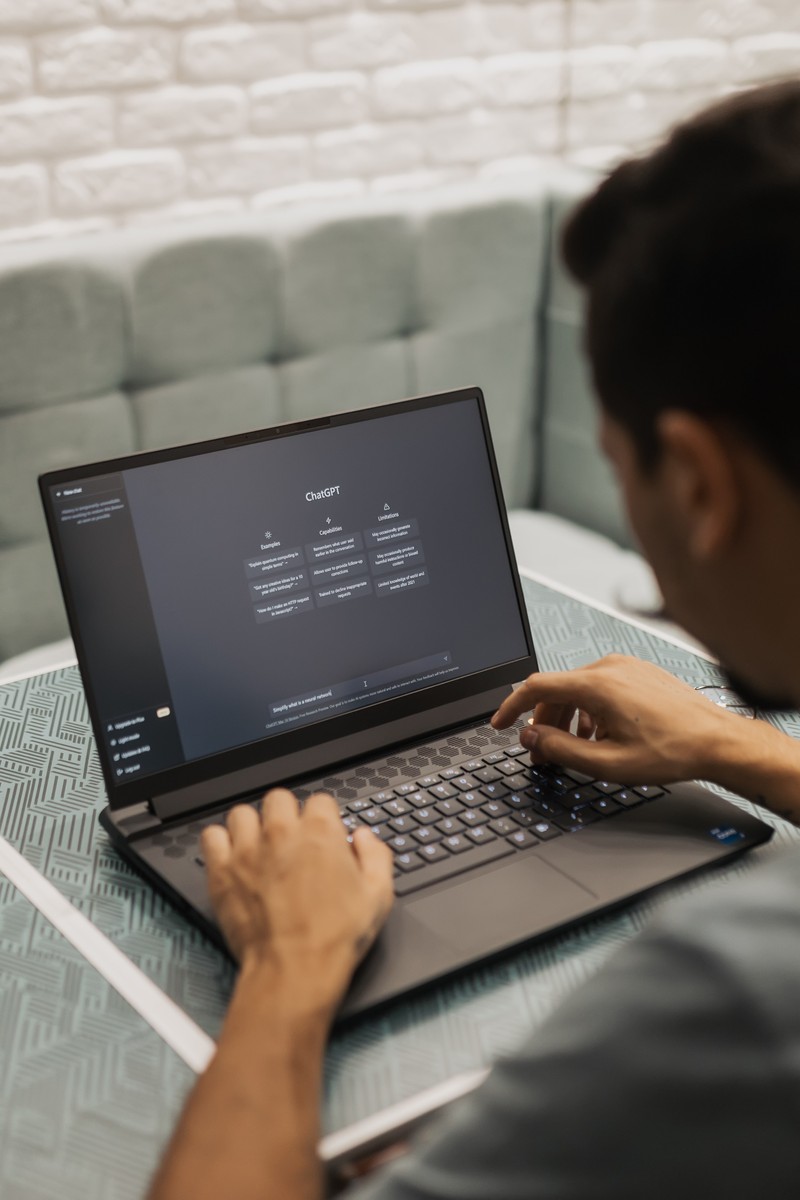 You can view ChatGPT as an all-rounder, it covers a bit of everything. In addition to creating content, so far we've seen people use it for help with writing code, google-type search queries, and even creating knitting patterns.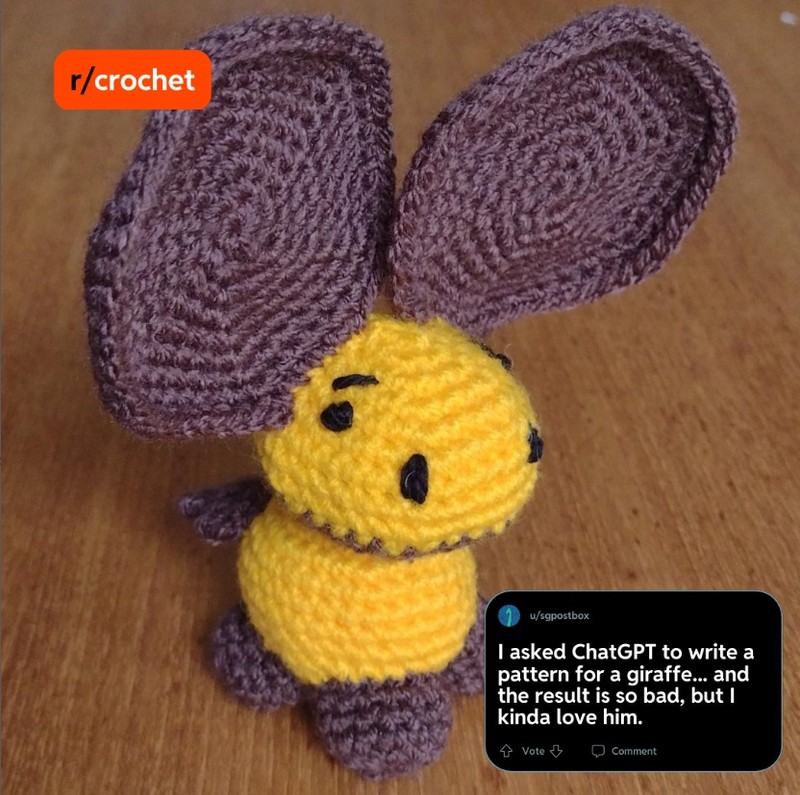 This is where Rytr differs. Rytr is focused on generating content specifically for marketing or business needs. We have over 40 use cases that receive tailored training to take the generic language generated and make it fit for these purposes. With Rytr Chat, our tribe can be a little more out-there in the types of content they're creating, but the purpose behind it all remains the same. Additionally, Rytr Chat users can utilise the many other features implemented in Rytr that are designed to ensure streamlined workflows; such as our documents area, editing features to keep tweaking your work, the team plans to allow colleagues to work together, and so much more. Whilst there certainly are areas of crossover and both tools have their merits, ChatGPT services a broader audience with a great variety of uses. In contrast, Rytr is dedicated to a niche, specific user group looking to create content for marketing and business purposes, so the content and platform is tailored as such. 
Now It's Over to You 🔗
We're constantly working to improve the Rytr platform and bring you new features that will help you to achieve your writing goals. And we can't wait to see how you will use Rytr Chat to create compelling content that resonates with your audience. If you have any feedback or suggestions, drop us a message at support@rytr.me, you know we love to hear from you!