Starting a new business with very limited resources can be super stressful, no?
From making (or procuring) the product to building your presence from scratch — it can take a heavy toll on your life. The work is never-ending, and even if one tries to rest, the founder's guilt takes over. Sigh.
Undoubtedly, management of resources comes up as one of the top priorities for small business owners and we are not saying Rytr can come to their rescue, but Rytr can definitely be a saviour.
Meet Rytr, your AI content assistant that will have your back in creating amazing, high converting and crisp write-ups.
Let's find out how.
For Your WOW Website Copies 🔗
Quite a no-brainer, the internet has made the world smaller and significantly shot up your need to make a catchy website. With our landing & website copies use case, one creates appealing content that would make users/visitors scroll for more.
All you have to do is explain your business to our AI and voila — be prepared to see the magic of GPT-3 technology.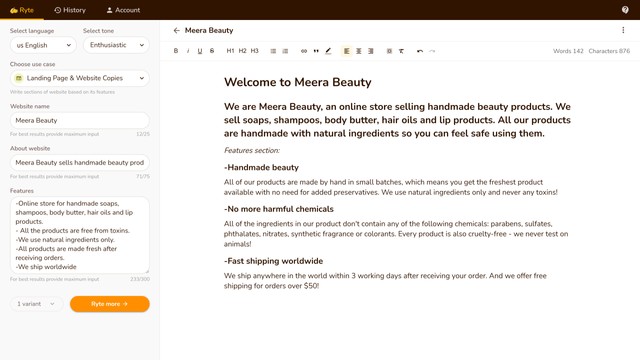 Cold Mailing Done Right 🔗
Skip the spam and talk to the point with the sharpness of our AI-generated mails. Don't let your potential users/customers slog through lengthy and monotonous mails and let Rytr hit the right nerves.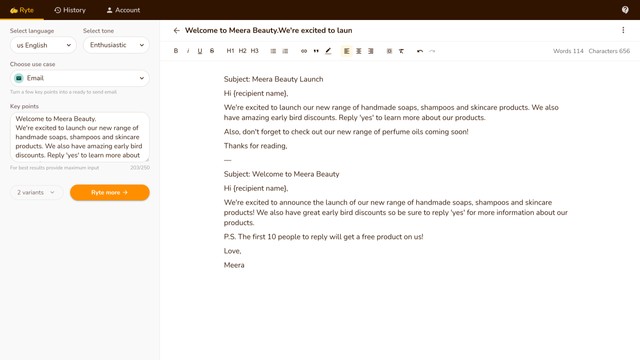 Oh, did we tell you that Rytr can generate sharp and clickable taglines too? Guess we just did!
Let's Get Optimizing 🔗
Search Engine Optimization lets you beat the crowd and works wonders in bringing organic traffic to your (virtual) doorstep. Meta description, meta title and keyword incorporated blogs are absolute necessities that work as a magical potion in getting your website all the visibility it deserves.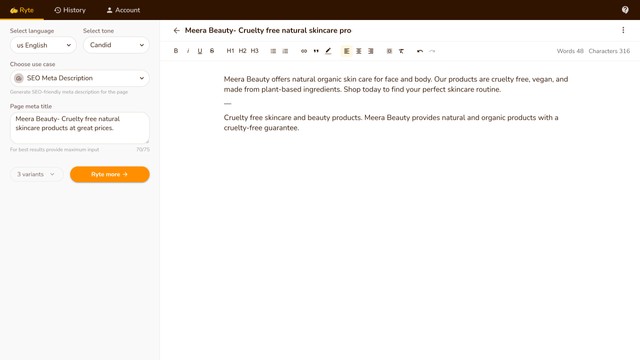 Bangin' Headlines n Captions 🔗
We don't judge a book by its cover but there is surely something about judging a piece of content by its headline. Are we right or are we right? With Rytr, you can enjoy the beauty of effortlessly written headlines/taglines within seconds.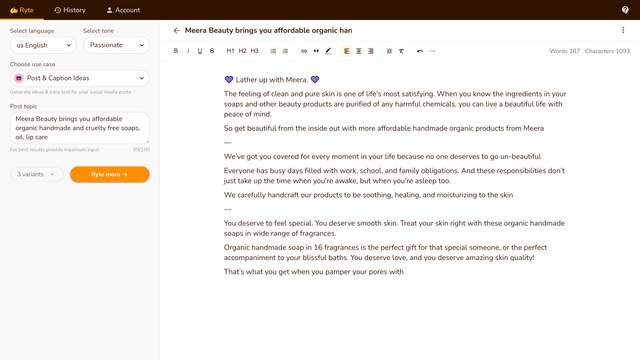 Wanna get more from your headlines? Take them to social media and adorn them with equally catchy captions.
The Pitch-Er 🔗
Now that you have sufficient content with you to get going, it seems like the best (or one of the best) time to put your nervous yet determined foot forward and go out on a pitching spree.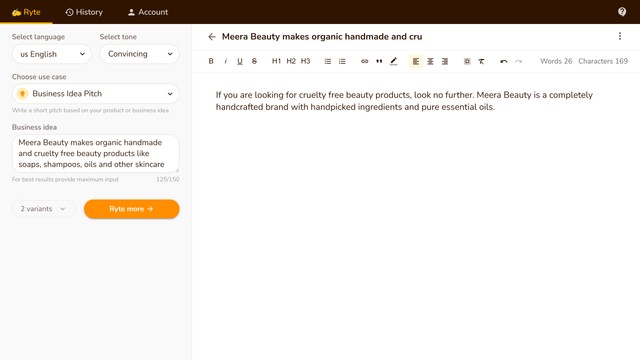 Pleasing investors can be tricky but like always, we have got your back. Make your pitch crisp and highly effective with the magic of AI and there you go, brace yourself for all those transaction notifications.
Conclusion 🔗
Still, reading? Maybe it's time for you to go typing with 10x of your speed and produce amazing content as promised. The above use cases are no less than the tip of an iceberg and there is so much more to come and explore.
To sum up everything, here are some good reasons why you should hire (opt for) Rytr's AI to help you and your little team:
Saves time, 10x faster way to write everything you can.
High-quality content that speaks for itself.
Saves money, you won't need to issue hefty cheques for writers.
Produce content that converts.
Take your writing assistant wherever you go with our browser extension.
PS, we can't wait to hear your success stories :)